This page is still being constructed and has been provided in this form as a temporary measure to show the proposed subject headings and the Borough Arms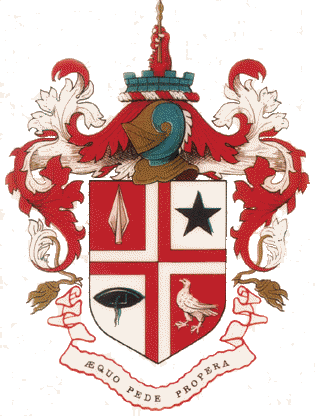 The Arms of the Borough of Leigh
These are the arms granted to the Municipal Borough of Leigh on 23 Dec 1899. The image is included by courtesy of Wigan Council, from whom permission should be sought if you wish to use it for any purpose other than private study. .
The symbols on the four quarters of the shield are taken from the arms of local families, each involved with one of the four townships which contributed territory to the Borough of Leigh: the spear head representing the Urmstons (Westleigh), the mullet (5-point star) the Bradshaws (Pennington), the shuttle the Shuttleworths (Bedford) and the sparrowhawk the Athertons. The bear's paw on the crest is taken from the crest of Lord Lilford.
The usual translation given for the motto is "Progress with sound steps"
The Current Administration from 1974