Middleton took its name from being in the centre of several towns, and lies on an ancient road between Manchester and Rochdale.
During the Middle Ages, Middleton was a centre of domestic flannel and woollen cloth production, and it obtained a Royal Charter to become a market town in 1791.
Industry flourished in Middleton from the end of the 18th century with the building of numerous large cotton and silk factories. Many people were employed in the associated industries of printing, bleaching, and dyeing; also in iron foundries and in machine making. In 1812, Middleton like many other manufacturing towns, suffered from attacks by Luddites who protested against the labour saving machinery which was destroying their livelihood; serious riots occurred in the town when hand loom weavers did their utmost to destroy machinery and burn the mills.
The mines are in Thornham and Hopwood produced coal to fuel the steam engines which provided the power to maintain industrial scale textile manufacture. The railways and canals conveyed raw materials and the produce of the factories to markets in England and the rest of the world.
Tonge Hall is a grade II* listed Tudor structure, and Alkrington Hall, built in 1736, was the seat of the Lever family. The Old Boar's Head Inn near the parish church on Long Street was originally a coaching inn and is said to date from at least 1632.
Another Tudor building in Middleton is the old grammar school which was founded in 1572, and constructed in 1586 on a site beside the River Irk.
The Victorian architect Edgar Wood was born in Middleton and designed several important buildings which still survive in the town today. He designed the remarkable Temple Street Baptist Church as well as several houses in Middleton. Long Street Methodist Church is recognised as Woods first great masterpiece, and dates from the same time as his most famous building, the Church of Christ Scientist, Daisy Bank Road, Victoria Park, Manchester.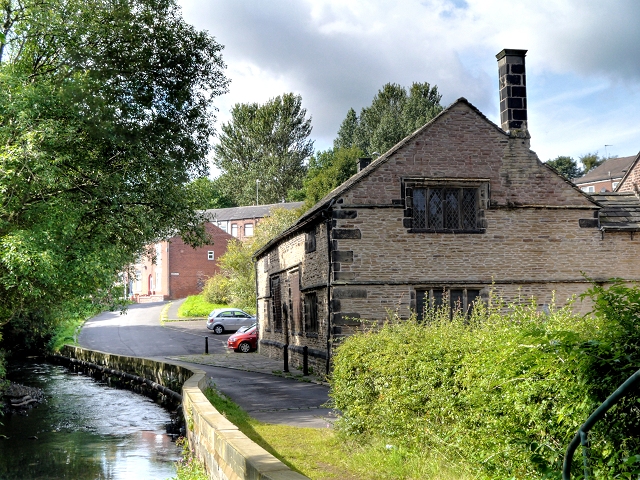 Old Middleton Grammar School