The area known today as Cheetham, Cheetham Hill and Crumpsall stretches from Victoria Railway station in Manchester City centre in the south to the Prestwich boundary in the north. Confusion arises as to where the boundaries lie, as part of Cheetham Hill village is in Crumpsall in the City of Manchester and part of it is in Broughton in the City of Salford. Bury Old Road (the continuation of Cheetham Hill Road) north of Crescent Road (east side) is Crumpsall and north of St Marks Lane (west side) is Broughton. The River Irk is the boundary in the east and the River Irwell is the boundary in the south west / west. The Cheetham boundary then meanders from the River Irwell roughly north west of Bury New Road to the Tenerife Street area, then weaving its way north east through the tiny streets south of Gt. Cheetham Street towards St Marks Lane and Cheetham Hill. To the east of Cheetham it follows Crescent Road to the Manchester and Bury tram line then runs south for a short distance, then crossing Hazelbottom Road to the River Irk. Towards the end of the 1700's prior to the church of St. Marks being built, Cheetham was described as a tiny hamlet surrounded by glorious countryside with gently undulating hills, green valleys and fields. In the tiny hamlet were two Inns where the weary might rest and refresh themselves. One the Bird In Hand, now the Empress and the other facing it was Robin Hood.
Crumpsall
Cheetham Hill Village c1905
Image courtesy of Manchester Libraries, Information and Archives (ref m16586)
The spelling of the place name has varied over the centuries: Curmisale 1282; Curmesalle, Curmeshal 1320; Curmesale 1405; Cromshall 1548.
Crumpsall lies to the west of the River Irk and north east of Cheetham. It has an area of 733 acres. The surface is hilly, with a ridge which attains 280 feet.
It has in the main become urban. The Manchester Workhouse once occupied land in a place formerly called the Bongs or the Banks and adjacent was the Prestwich workhouse. This building later became Springfield Hospital and Crumpsall Hospital, and today the land is occupied by North Manchester General Hospital.
To the west is Crumpsall Green. The Manchester to Bury road passes along the south west boundary. The Manchester to Bury railway now the Metro link tram line runs north west through the centre of the township.
A local board was constituted in 1854. In 1890 the township became part of the City of Manchester and was absorbed in the new township of North Manchester in 1896. Mainly residential with a number if industries close to the River Irk; Mills, Print works, Chemical works. Also a brick works and rope walk. In 1852 there was a cotton mill and a print, bleach and dye works.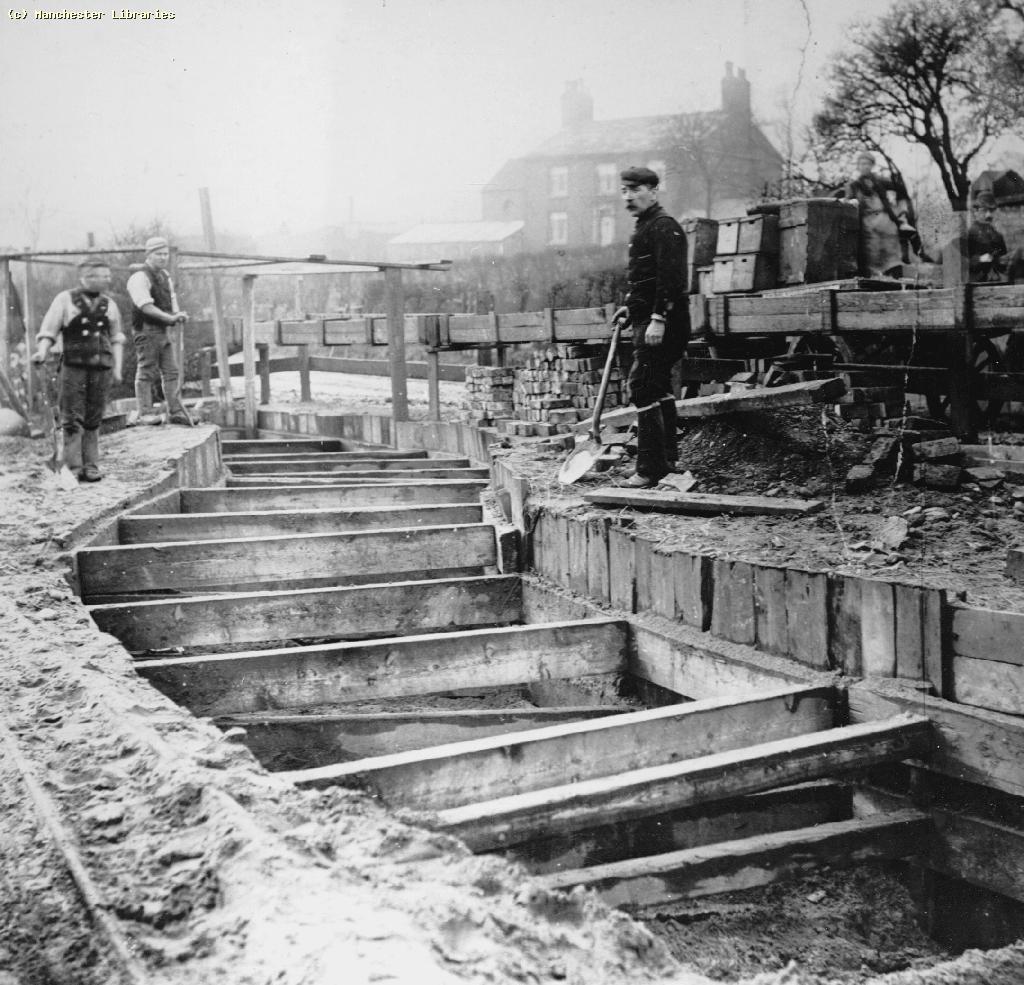 Tunelling for Sewers in Crumpsall, 1895
Image courtesy of Manchester Libraries, Information and Archives (ref m20876)