In Memoriam
The Leigh Parish site was constructed by the original OPC, David Wilkinson. David died in March 2007. He was a meticulous researcher whose aim was to compile a detailed account of the history, geography and civil administration of Leigh Parish and Borough. Unfortunately he was unable to complete this work, but we have kept most of the site as he intended it to be. The current OPC is Peter Wood, who is focussing on providing church register transcriptions, particularly from the parish church of St Mary the Virgin.
Brief Description
Leigh is a market town (and an ancient parish) in south Lancashire, formerly comprising the six townships of Astley, Atherton, Bedford, Pennington, Tyldesley with Shakerley and West Leigh. Once primarily an agricultural centre, it later became an industrial town dependent mainly on coal, textiles and heavy engineering. Following the national decline of these industries in the second half of the twentieth century, it again had to re-invent itself and now relies on light industry and the service sector. To add insult to injury, since 1974 it has even lost its civic identity and is now part of the Metropolitan Borough of Wigan.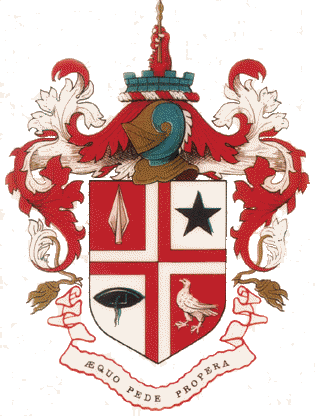 The Arms of the Borough of Leigh
These are the arms granted to the Municipal Borough of Leigh on 23 Dec 1899. The image is included by courtesy of Wigan Council, from whom permission should be sought if you wish to use it for any purpose other than private study. .
The symbols on the four quarters of the shield are taken from the arms of local families, each involved with one of the four townships which contributed territory to the Borough of Leigh: the spear head representing the Urmstons (Westleigh), the mullet (5-point star) the Bradshaws (Pennington), the shuttle the Shuttleworths (Bedford) and the sparrowhawk the Athertons. The bear's paw on the crest is taken from the crest of Lord Lilford.
The usual translation given for the motto is "Progress with sound steps"