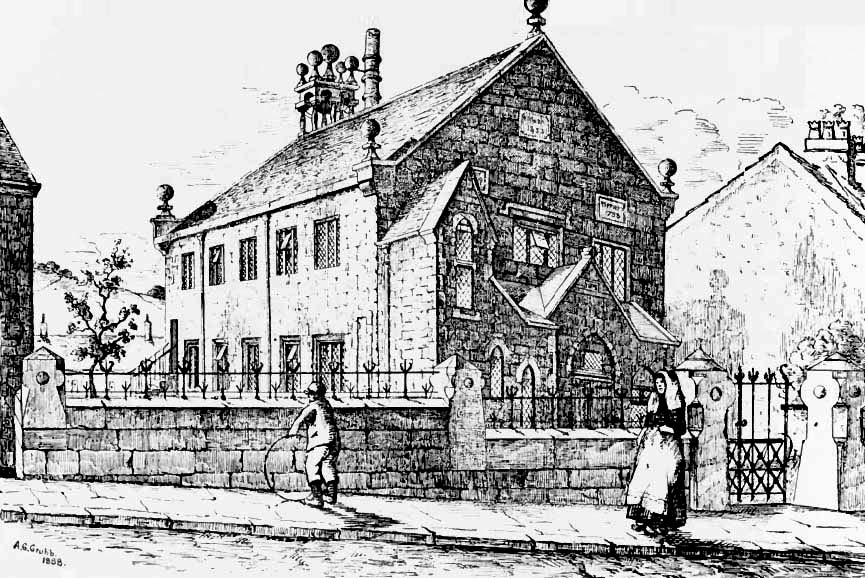 Lower Chapel, Darwen, c1719
Lower Chapel building dates back to 1719 as evidenced by the date stone on the building. It stands in the part of Darwen known as 'Chapels'. According to the church register Lower Chapel was originally known as Heys Chapel. Higher Chapel which stands close by is now known as St James's Church.
In 1887, the Lower Chapel congregation held a bicentennial. At this time, they dated their congregation back to 25 July 1687 when King James II granted liberty and licensure to Nonconformist churches. Prior to that day, the congregation worshipped in the homes of William and Henry Berry, and prior to that, in barns and hills surrounding the village. Worshippers from Darwen, Tockholes and Haslingden worshipped on the hills and moors of the area going as far as Pendle Hill to Thomas Jollie's Chapel.
Upon the declaration of King James II the worshippers took over the Old Chapel, which was built as a Church of England Chapel, and remained for a year until they were ejected. In 1688, they reapplied for a public place of worship and worshipped in the barn at Bottoms, which became the original Lower Chapel and at that time was known as Bottoms Independent. The Chapel took on the name of Lower Chapel because the other Chapel (Darwen Chapel which later became St James) was on a higher ascent, though neither were in the mountains or banks of Darwen. In 1714 it was known as the 'Presbyterian Meeting-House'.
One of the original ministers of the Lower Chapel was Charles Sagar. He taught at Blackburn Grammar School, but then declared his nonconformity and was relieved of his duty. He then taught at a private men's school in Blackburn and preached in Darwen at Lower Chapel. A Major Nowell of Read was his worst enemy and had him arrested. Rev. Sagar spent six months in Lancaster prison. He returned to his home in Blackburn and continued to preach in the area, including Jollie's Chapel. He was well respected among the congregational ministers and villagers. He died from paralysis in 1697.
Rev. Griffiths succeeded him as minister and was successful in building his flock. By 1717 he had 648 persons belonging to his church. He built a new Lower Chapel in 1719 to replace the barn at Bottoms. Since Darwen then had a population of about 500 people, it is suspected that people came from as far as Blackburn and Haslingden to worship there, as is evidenced by the register of baptisms.
The new Lower Chapel land was purchased by a John Fish at a place called Clark's Field. He then joined ownership of the land with William Yates and Richard Sanderson, and the building was built in 1719.
After the death of Mr. Griffiths, a Mr. Burgess succeeded him. The influential Congregationalists seceded from Lower Chapel and built a chapel called Yates Chapel after a young minister, Robert Yates, son of a local family. Burgess left in 1733 and went to Greenacres. A Rev. Benjamin Mathers succeeded in replacing him in 1737. He died in 1746 and is buried in Darwen.
In 1751 Rev. Robert Smalley was ordained as minister of Lower Chapel. He kept his own personal records of the church, and since there are no others, his diary serves as the official church register of Lower Chapel until 1785 when the Public Register was started.
Rev. Smalley married Ann Yates (of Yates Chapel) and was able to unify the two congregational chapels of Darwen (Yates and Heys Chapels). In doing so, he was able to improve the chapel and added a gallery in 1753. His congregation grew to 1,850 by 1775. He died in 1791 at the age of 62.
At the end of Rev. Smalley's diary the following is written:-
"Elizabeth the daughter of Robt. Smalley the younger and Ann his wife was the last child which the Rev. Robt. Smalley ever baptized, H. W. Watson of Horridge introducing the service. He was at that time confined to his bed and died shortly afterwards on the 16 Jan 1791 about mid-day. Signed H.W.G. Amen"
After his death, his son, Richard, took over the pulpit, but was not respected by the parishioners. A faction left and founded Pole Lane Chapel. Richard Smalley was only in service for a year and was then followed by a series of ministers. In 1795 a minister's house for the Chapel was built.
In 1852, Lower Chapel was found to be in dire need of restoration due to the walls showing signs of giving way through the effects of mining operations carried on underneath. After much discussion it was decided to build a new chapel in Duckworth Street and the Minister, together with the majority of the congregation, transferred to the new building in the centre of Darwen. However, the minority repaired the ancient chapel and worship continued for many more years. After almost 290 years of religious use Lower Chapel finally closed in 2003. It is now used as a Community Centre.
There is a graveyard and the Monumental Inscriptions (1729-1859) are held at Lancashire Archives.